Register milyon88 to earn 120 PHP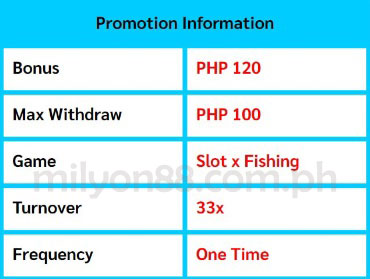 How to Join
👉🏼 Just register an account on MILYON88
👉🏼 Complete your personal information and bind payment for deposit and withdrawal.
👉🏼 After completing the information, your membership will automatically be upgraded to VIP2.
👉🏼 The PHP 120 will be automatically credited to your account.
👉🏼 You can join the free bonus promotion on the promotion page, there are a lot of benefits there!
Good to know
The promotion cannot be combined with any promotional offers.
Before changing to another promotion, members must complete the current promotion and complete the turnover/balance requirements.
The system takes approximately 10 – 20 minutes to calculate the turnover/balance to unlock the promotion for members.
Only one account per member is allowed, members opening multiple or fraudulent accounts will have their accounts locked and deposits forfeited.
MILYON88 reserves the right to modify, alter, discontinue, cancel, refuse or void this promotion at its sole discretion.
MILYON88 reserves the right to freeze all accounts and funds without notice to any individual or organization suspected of using dishonest methods to receive promotion benefits.
MILYON88 has the right to a final understanding to avoid misunderstanding the written information, our customer service can be contacted for clarification.